The Indian streaming category is growing, and it is not surprising that viewership records are being broken in the process. Amazon Prime Video's new series Farzi, launched in February 2023, is now the most-watched SVOD original Indian series of all time. During this week, it took the top spot, and is expected to be watched by an estimated 37 Million Indians by the end of its run.
The chart below lists the top 10 original SVOD series based on their viewership. For shows with multiple seasons, only the most-watched season has been considered. For shows still being tracked, including Farzi, estimates below are projected lifetime estimates (final estimates may vary). AVOD originals have not been considered (Aashram remains the most-watched Indian web-series till date if AVOD is included).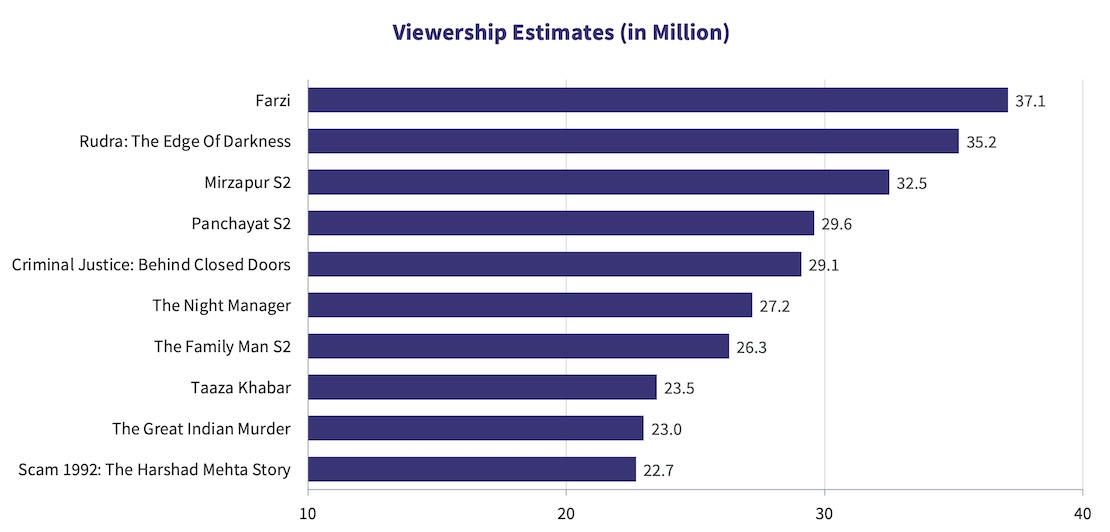 Interestingly, three properties released in 2023, Farzi (Amazon Prime Video), The Night Manager and Taaza Khabar (both Disney+ Hotstar), have managed to enter the all-time top 10 list, highlighting how OTT originals are gaining more traction with time. Will we have the 40 Million mark crossed soon?
Methodology
Viewership of OTT originals is estimated using primary research conducted among audience across India at a weekly level, projected to the OTT universe in India. We do not use any secondary data, including that put out by platforms in the public domain, for this estimation. Our viewership estimates (reported in Millions) represent:
1. Number of people who watched the show (at least one full episode) or film (at least 30 mins.). It does not represent the number of accounts used for watching the show/ film, e.g., three members of a family, or two friends, watching on the same account are considered as unique audience (3 & 2 respectively, in these examples).
2. Only the India market (overseas viewership is not estimated).
3. Unduplicated audience, i.e., even if an audience member watches episodes spread over multiple weeks, they are still counted only once.
4. Tracking is for 8 weeks from launch. Hence, audience who 'discover' a show once a new season comes out are not counted for the older show.